K9 Harnesses, Muzzles and Other Professional Gear as Dog Collars and Leashes in EU

For Dog Trainers has been on the market for you and your dogs since 1995. Your satisfaction is our main priority in running our family business.
You will most likely be surprised by the personal touch we provide our customers. We love and understand dogs, and we know what you and your dog need.

We have hundreds of customers around the world using our top notch dog training equipment, and we hope to make you one of them! Our products have been created with love, tested and approved by professionals.

If you ever have any questions or concerns please contact us at

. We look forward to hearing from you! 
In this article we will tell you about different dog harnesses types, that differ by functionality and other factors. So, the moment has come that you need a harness for your dog. And now you are searching  for a guide to give a tip, what type of dog harness to choose.
From the very beginning you need to specify the main purpose for purchasing dog harness.

With a  dog harnesses you may do following actions:
Suitable in  pulling
Suitable in training
Using dog harness as an assistance mobility device
To rehabilitate your dog after injury, surgery or accident
To make assistance dog harness for older dogs
Better control under walking of your dog
Dog can serve a guide
It warms your dog in cold weather
Suitable in  tracking
Also dog harness may be used for identification of  working dog certain type (ID dog harness)
Here is a more detailed specification for each class of dog harness:
A dog walking harness will assist you in better control of your dog. It is the right item for dogs of well obedience, which have slight behavior deviations such as aggression toward strong dogs, strong prey or hunt drive. While there are many tools and techniques for dog behavior corrections such as choke and shock collars and pinch/prong collars, we observe a dog harness as the most humane choice to apply correction acts to your dog if needed. The main base is that the harness will in no way hurt your dog , it will just give an opportunity for you to keep your dog where you want your dog to be situated while using a correct amount of strength.
Attack/ protection training is one of the most popular ways to use a dog harness for training. Well-made durable harnesses may be used for sports, police training, protection training, KNPV training, Belgian and French ring sports.  What makes a training harness good is its padding. Padding  is essential for a dog's comfort, strength and durability and therefore the trainer feels safe. Also it balances the pressure from throat/ trachea zone  towards the chest zone. A dog training harness, that is well-fitted, helps the dog breathe right and with correct intense training the dog will stay focused longer in the training session. For better control of the  dog we offer an option to attach a handle, which is situated on top,  to the harness.   
Dog harness for training – there are many different ways to train your dog.
Here you may use links to be acquainted with high quality dog training harnesses
Leather dog harness for training
Y-shaped chest padded dog harness for training
Padded dog harness for training

One should consider an dog harness for assistance if your  dog provides  physical or mobility assistance. This harness is  reinforced with extra  padding on the breast area in order to provide  the comfort for your dog. The dog harness' general durability and sturdiness depends on whether the dog guides a person gently, acts as a brace for the assisted person or actually pulls a wheelchair. Wheelchair  pulling must also involve a change of design and this change must be similar to a sled dog harness structure.
Dog harnesses for rehabilitation are used to help injured dogs get through period of therapy and get well. These  harnesses remove pressure and tension  from the problematic zones, some of these dog harnesses may be connected to a special wheelchair,  which help the dog move in cases when the hind legs are injured. You can also use the handle located on the top to assist  in lifting your dog up and down  the stairs or to vehicle.
A dog  harness for tracking  is usually used for both sports and rescue/ search actions. It necessary for you to make sure that your dog's movement is not limited by the harness design. The tracking harness should be with  the light weight and be padded preferably. A light weight harness will ensure longer tracking  distance  and the padding will assist in avoidance of irritations in  the most sensitive zones. The tracking  harness is made of leather or nylon. You should choose a dog harness of nylon if  you are going to use it in contact with water.
The majority of working dogs breeds can learn pulling a dog harness. Subject to the climate and weather in your area you may  choose between a nylon pulling harness and a leather harness for pulling. One should use the nylon pulling harness while it is raining or snowing, in general in the high humidity conditions. As far as a  leather pulling dog harness is concerned, it is from natural materials. It is better-looking on a dog and  also shows  in some way the  owner's social status. One may use a pulling dog harness for doing exercises with your dog by adding different objects to it such as a wooden box with bricks, sand or stones inside and die to it your dog works hard while pulling those objects.  You may also add to the harness car tires of different weights and sizes. Some customers prefer jog, bicycle or roller-blade by being pulled by their dogs. For this fun acts one should be very careful and approach to them with highest possible responsibility for your dog and yourself. There are more advanced classes of pulling dog harnesses, which are used for dog pulling contests.
Dog harnesses for guidance are  specially constructed for dog to feel comfortable and to allow full handle usage as part of the connection between the guided person and the guide dog.

Vest harness / Coat harness is the class of the dog harness, which is made of cold resistance material and will keep your dogs body warm during the  cold winter weather. The harness is made with a  handle on the top so you can help your dog, when the snow is too deep and you can certainly add a leash to the ring, which is stitched into the  harness, therefore there is no need for your dog  to wear a regular collar.
Police, military, search & rescue, patrol, security and many other working dogs should wear an  ID dog harness as part of regulations of working environment. An identification dog harness is a must-have item for many working environments. Resembling dog harness can be used, for example, when you don't want strangers to pet your dog. Fordogtainers offer ID dog harnesses with removable Velcro patches. Some of the patches say: "security", "police" etc. While others say: "do not pet", "do not feed", etc.
Here you may use links to be acquainted with high quality identification dog harness

Dog harnesses  for older dogs' assistance are  similar to rehabilitation variant of harness and mostly used to help older dogs reach higher ground, climb the porch or stairs or get into the vehicle.
In conclusion,  designed and decorative dog harnesses can bring much color into your dogs' life. While these fancy  harnesses single out your dog, we make sure first and for most that these harnesses are  functional. We attach a better control handle, attach padding  and make it natural and suitable  for your dogs body. Your dog  deserves to have a fine look.
New Products For December
Monthly Specials For December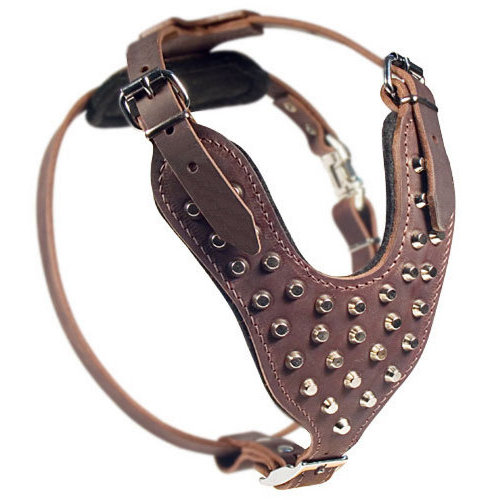 €132.3
€96.2

Save: 27% off